CD of Country Joe's London Concert Planned

Tapes of Country Joe McDonald's Queen Elizabeth Hall concert in May are being prepared for CD release this September by Ace/Big Beat/Rag Baby/Woronzow. Here's an audio preview:

Janis (solo)
Playground Blues (with Nick Salomon)
Bass Strings (with Bevis Frond)

(You'll need RealAudio to listen.)

---
The following review appeared in Mojo for July, '98:
Country Joe McDonald
London, Queen Elizabeth Hall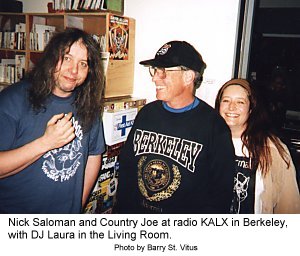 Set List: (Solo) Entertainment Is My Business/Camouflage Man/Janis/The Masked Marauder/Section 43/Thinking of John Fahey/What Wondrous Love Is This/When I'm Walking Through The Trees/I Feel Like I'm Fixing To Die Rag (with Nick Saloman) Pat's Song/Playground Blues/Nothing Means Nothing Blues/The Lady With The Lamp/Carry On (with The Bevis Frond) Who Am I/Here I Go Again/Not So Sweet Martha Lorraine/Bass Strings/Rock And Soul Music/Death Sound
Thirteen years since he last came to the UK, Country Joe McDonald returned triumphantly to provide an evening of nostalgic and rare entertainment. One can't be certain, but this was surely the first time that the sober surroundings of the Queen Elizabeth Hall have resounded to the sound of several hundred people repeatedly shouting a four-letter expletive, the notorious Fish Cheer.
Originally billed as a solo set, a chance meeting barely a month ago resulted in Nick Saloman and his band The Bevis Frond being invited to back the Woodstock veteran. For the first hour, McDonald accompanied himself on an acoustic guitar, sang a cappella and told tales from the hippy era. Relaxed, eloquent and witty, he was clearly enjoying himself, blending songs old and new, but leaning heavily toward those first two Country Joe And The Fish albums.
Songs such as Janis, about his ex-girlfriend Joplin, seem more poignant than ever with the passing years, but his more recent compositions showed he's lost none of his powers of incisive social commentary. Playground Blues lent a traditional setting to a contemporary theme - the recent spate of American schoolyard shootings - while Lady With The Lamp reflected McDonald's curious long-term fascination with Florence Nightingale. (It was a memorial service in her honour that prompted his visit to Britain in the first place.)
After an interval, he and Salomon duetted on acoustic guitars. But it was when the rest of the Frond plugged in that the evening really began to fly. As Joe said at the outset: "I had almost given up being able to play these old tunes in the old way, but a small miracle has occurred." He wasn't exaggerating. Despite only a couple of hours rehearsal, The Bevis Frond pitched their performance perfectly between an undoubted reverence for the music and a desire to inject fresh vitality. A stunning version of the psychedelic Bass Strings almost managed to surpass the original; and the epic rendition of the James Brown 'tribute' Rock And Soul Music reminded us that McDonald's long career has embraced an enormous array of styles. Let's hope that the enthusiastic response will persuade him to return sooner next time.
Tim Forster