California Democrats Get Hemped Out In Sacramento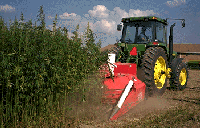 Harvesting hemp.

SACRAMENTO. Delegates to the California State Democratic Convention got a taste of hemp this weekend and announced to the world that they like it! CAlifornians for Industrial Renewal and the Hemp Industries Association manned a booth at the convention and sold sell hempseed coffee from Humboldt Hemp Foods, and cookies from Sativa's Kitchen, and Mary Jane's Hemp lollipops. This gave many curious delegates a chance to get touchy-tasty with hemp foods before they voted in favor of a resolution to allow cultivation of hemp.

The "Support Industrial Hemp" resolution was among 17 resolutions brought to the floor of the convention. All of the resolutions were "pulled" (debated) for one reason or another, except the one on the Irish Peace Process.

Our resolution was pulled by an elder man who had concerns about the enforcement of marijuana laws. Ironically, the original resolution contained two paragraphs on Registration and Enforcement which were written out by the resolutions committee. When the time came to debate an amendment offered by this man, stating that nothing in the law would prohibit law enforcement from full enforcement of marijuana laws, the crowd got hot. One man made an off-color joke about everyone who supports hemp and medical marijuana will be thrown into prison. Another elder woman got up and said that we know hemp is not marijuana and the amendment wasn't necessary.

When the delegates voted whether to adopt the law enforcement amendment the crowd roared Nay, and one little voice cried Yay! Motion denied, resolution accepted, adjourn!

A resounding demonstration that Californians know hemp is not marijuana!

Overall, the delegates were very open to hemp, and in many cases they were enthusiastic. Senator Tom Hayden insisted that he knew my hemp suit was hemp, that he knows all about it. Ex-US Senator Alan Cranston, on the other hand, claimed he didn't know anything about hemp.

I met Congresswoman Maxine Waters of L.A., and told her how grateful I was for her work to expose CIA drug running. When she heard that she threw her arms around me and literally squealed with joy. I got the distinct impression that she was not hearing congratulations like that nearly enough. This is woman I hope Gore picks as a running mate, and her inclusion would cross two bridges- race as well as gender.

So, with the blessings of the State Democratic Party, off the bill will go to the legislature. All of this work is spearheaded by Sam Clauder, the man who brought us the Industrial Hemp Act of 1998

Here is his plan: get the bill passed by the legislature this year. Buoyed by that victory, we should have the same kind of presence at next year Democratic convention at the Bonaventure Hotel in February 2000. Then, when the National Democratic Convention comes to LA, in August of 2000, the hemp movement will have a booth or booths to promote the issue to 20,000 delegates and media for 5 days! (We'll have to go to Woody's cafe to come up for oxygen!) At that event we will push for hemp to become a plank in the platform of none other than Mr. Environmental himself, Al Gore, who would have to bring industrial hemp into his presidential campaign!

Until then, C.A.I.R needs help! Sam has put his own money into this and last year's failed hemp initiative. His heart and mind are definitely into making hemp a reality in California and we owe him our support. No one else has made it this far in California politics. If you can help, please call Sam at 714-543-6400. Have a rich friend call him or put him in touch with possible donors. He has made a major coup here and we cannot afford to let him down.

To view a copy of the resolution passed by the Democrats, go to HempWorld News at: http://www.hempworld.com/hwmag.cfm

Bookmark that page to check later when we have posted the final language of the Act.

Mari Kane, HempWorld News
---
Hemp Photography by Mari Kane now available at HempWorld's Photo Gallery. HempWorld has opened a new photo gallery to feature the photography of Mari Kane and other photographers which can be purchased for use in media or corporate promotion. The images are available in these pixel dimensions:192x128, 384x256, 768x512, 1536x1024, 3072x2048. Low quality images may be downloaded for placement only, with high-quality scans being sent by email or on disk once terms are arranged.

So if your project requires photographs of hemp check out: http://www.hempworld.com/phogal.cfm

HempWorld is for Sale! We would like to put HempWorld into the hands of someone who will make it fly! If you'd like to find out more about buying The International Hemp Journal go to: http://www.hempworld.com/websalepage.cfm

Mari Kane, HempWorld/Hemp Pages
PO Box 550
Forestville, CA 95436
707-887-7508
Fax: 887-7639
http://www.hempworld.com

HempWorld celebrated its Fifth year of publication in 1998!